In 1988, she stood there in the flesh, dressed in blazing red, to formally declare Australia's new Parliament House open.
Thirty-four years later, Sir William Dargie's famous portrait of Queen Elizabeth II in a wattle-coloured gown was displayed at the centre of parliament's Great Hall for the late monarch's national memorial service.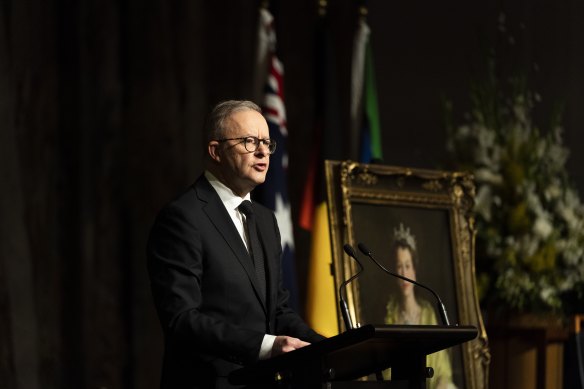 It was an understated and distinctly Australian occasion, with little of the pageantry that accompanied the Queen's funeral in London earlier in the week.
Melissa Doyle, the former host of Channel Seven's Sunrise, was master of ceremonies; Australian Idol runner-up Anthony Callea sang the national anthem. The Australian Girls Choir performed the Queen's wedding hymn, Psalm 23 (The Lord is My Shepherd).
Seated in the 700-strong invite-only crowd were High Court justices, premiers, defence chiefs and department secretaries. Chinese ambassador to Australia Xiao Qian was there, but no sign of his Russian counterpart.
Loading
Among former prime ministers, devoted republican Paul Keating was in the same row as monarchists John Howard and Scott Morrison, while Tony Abbott, who led the charge against an Australian republic in the 1990s, was notably absent.
Most of the current members of parliament were in attendance, but Greens senator Lidia Thorpe instead marched in an "abolish the monarchy" rally in Melbourne.
Sitting on the lawns outside on a gloomy Canberra day, a couple of hundred people gathered to watch the event on big screens. Michael and Eileen Smith, originally from Yorkshire, said they wanted to come to mark a "moment in history".
Original Article: Click Here