People love food on a stick. Why? What's that about? Perhaps it's because, suddenly, it's not food any more: it's a party treat, like a lollipop or a toffee apple.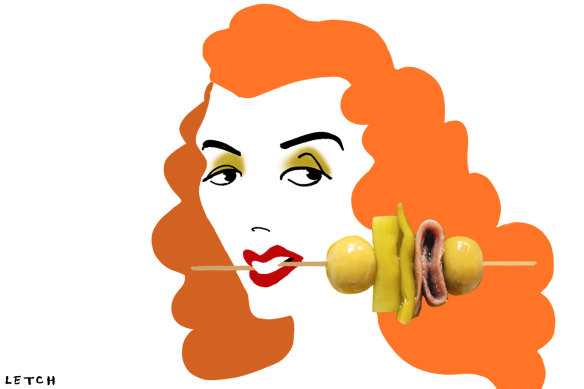 I swear if you stuck three Brussels sprouts on a stick and dipped it in hot oil, every sproutophobe out there would gobble them up. The famous pintxos snacks of the Basque region of Spain would just be nice things served on slices of bread were they not speared with a small wooden cocktail stick. But the most famous pintxo of all doesn't even have the bread, just the stick.
Loading
The story goes that in the 1940s, a little bar in San Sebastian called Casa Valles would serve small platters of green olives, pickled guindilla peppers and anchovies with a drink or two. Then, a regular customer started combining the three on the one toothpick. It caught on, and they named the new pintxo the Gilda, for the spicy Rita Hayworth character in the 1946 film of the same name.
The Gilda is having another moment, as a new generation of bar owners and restaurateurs realise that anything salty, strong and pickled that explodes in the mouth will make their customers hungry – and thirsty – for more.
They named the new pintxo the Gilda, for the spicy Rita Hayworth character in the 1946 film of the same name.
In Sydney, the Continental Delicatessen assumed ownership of the Gilda when it opened in Newtown in 2015, while in Melbourne, it has long been the go-to first order at MoVida Next Door.
Chef Jose Saulog of Potts Point's luxe little Parlar serves his Gilda on toast, layering white anchovy with olive mayo and guindilla peppers. Cocktail bar Nick & Nora's, now on Melbourne's Collins Street and in Sydney's Parramatta, serves a Gilda as the on-glass garnish to its upscale take on a Bloody Mary.
Lennox Hastie of Sydney's Firedoor became so entranced with the Gilda during his time as head chef at the mighty, wood-fired Asador Etxebarri in the foothills of Basque country that he has just opened a Surry Hills tapas bar by the same name (reviewed in today's magazine). Hastie even has three versions on the menu – the classic, a hot-off-the-coals Grillda and an Australianised Matilda, ho ho.
Original Article: Click Here