Down the river at the MCC sections lunch, Shaun Burgoyne baulked at ranking his four premierships, saying all were different. It ought not to have surprised that he sat on the fence; he was a beautifully balanced footballer. But oh to have the choice instead of a wish.
The Carbine Club lunch and the MCC lunch were two of dozens of events that form the rituals of the grand final prelude, all dusted off again this week.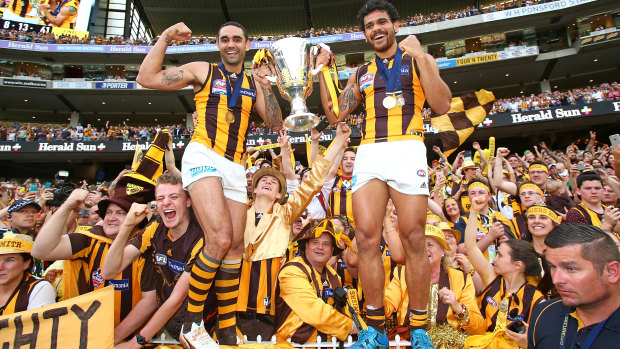 Traditionally, the Carbine Club guest of honour is the newly-crowned Brownlow medallist, barely slept. This year, Paddy Cripps looked particularly fresh after his extra night's sleep, courtesy of the royal funeral. Asked what he would change about footy, he said: "Bring back third man up." NB, AFL.
The spirit of this year has been liberation. It was evident in the week's events, marked by blitheness amounting nearly to euphoria. It was reflected in the footy, which has been played with concordant freedom. A couple of daring coaches have led the way. Whoever would have thought of Collingwood as the avant-garde leader of the AFL?
The ebullience washed through to Friday. That is not to gloss over the ghastly allegations made against Hawthorn mid-week and their reverberations and repercussions, but they are now beyond the purview of supporters and their reclaimed grand final week.
Suddenly, helicopters were droning overhead again; whoever thought we'd welcome those back? Suddenly, Mike Brady was everywhere again, and will be out there on Saturday; how much more business-as-usual can you get?
One of the most poignant moments of the 2020 finale at the Gabba was when Brady was beamed in singing from an empty MCG. Now, if only at half-time he could play his anthem and the AFL would leave it at that. Hah!
But in due course, the AFL got carried away. It's a kind of genetic flaw. The grand final parade was recast as a flotilla and became a debacle.
People came in their usual tens of thousands. The Swans were strongly represented – one policeman even patrolled in red-and-white scarf – but they saw little and heard less, unless the witterings of a civic official count.
From this column's viewpoint, most bore this travesty in admirable good humour. One of the features of the pandemic era was how few fans asked for their membership money back, though they would see few or no games. That forbearance was again evident in Yarra Park. The AFL depends on it.
Fans craned their necks for glimpses, sung along to snatches of their club theme songs as they caught them on the breeze, exchanged wisecracks with opposition fans and then drifted off to their dreams. This bonhomie of mingled fans is AFL footy's crowning glory, never to be taken for granted.
But henceforth and always, the parade should be on floats, not floating.
Original Article: Click Here