It was another setback that could have been a career-ending one. However, the time spent in his native New Zealand didn't go to waste. The former Junior Kiwi reconnected with family during what was a 13-month knee rehabilitation.
Unable to play due to injury and the COVID-19 shutdowns of the lower grade competitions, Milne begged South Sydney coach Jason Demetriou for one final chance. The pair have a relationship from their time at the Illawarra Cutters, where they combined to win a premiership in 2016.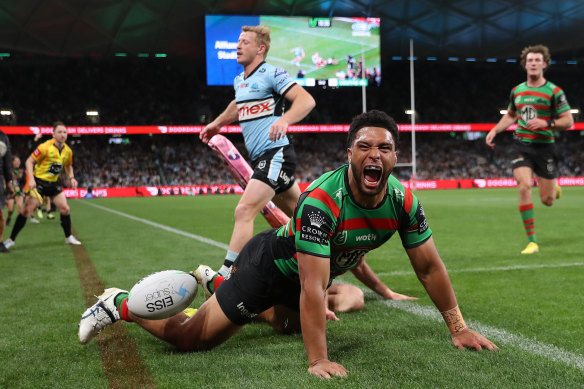 "He's always had that connection with me when I've had my little stuff ups, he would ring me up to try to pull my head in," Milne said. "When the opportunity came to come over here, after I did my knee, I was harassing him on the phone, going 'Get me over there.'"
The move eventually happened last year and has been beneficial to both parties. While Alex Johnston hogs the headlines for his try-scoring feats on the left wing, Milne has given the Rabbitohs a strike target on the right.
Sin-binned twice in the opening weekend of the finals, Milne scored two tries against Cronulla, taking his total to 18 over the past two years. "I swapped the yellow cards for tries last week," he grinned.
Loading
More importantly, Milne has got his life back on track. With the support of Demetriou, partner Casey, mother Shannyn and step-father Manu, the 27-year-old is finally fulfilling his potential.
"I'm proud of the man I've become," he said. "Without all that stuff that happened when I was younger, I probably wouldn't be here today.
"I could still be doing the drinking and that if I didn't get caught. I can still have a beer, I've been through counselling to help me around alcohol. Now I can have a controlled beer, I can have one beer, two beers.
"It just comes down to the people you hang out with as well, surrounding yourself with people who want to do well. I've worked that out in my life, how to manage that. I've learnt how not to have a beer.
"We've got a big final this week, I'm not having a beer. Before I wouldn't have cared, I would have had a beer. Now I've grown and the missus has put her foot down. I have to be a man now."
Stream the NRL finals series live and free on 9Now.
News, results and expert analysis from the weekend of sport sent every Monday. Sign up for our Sport newsletter.
Original Article: Click Here