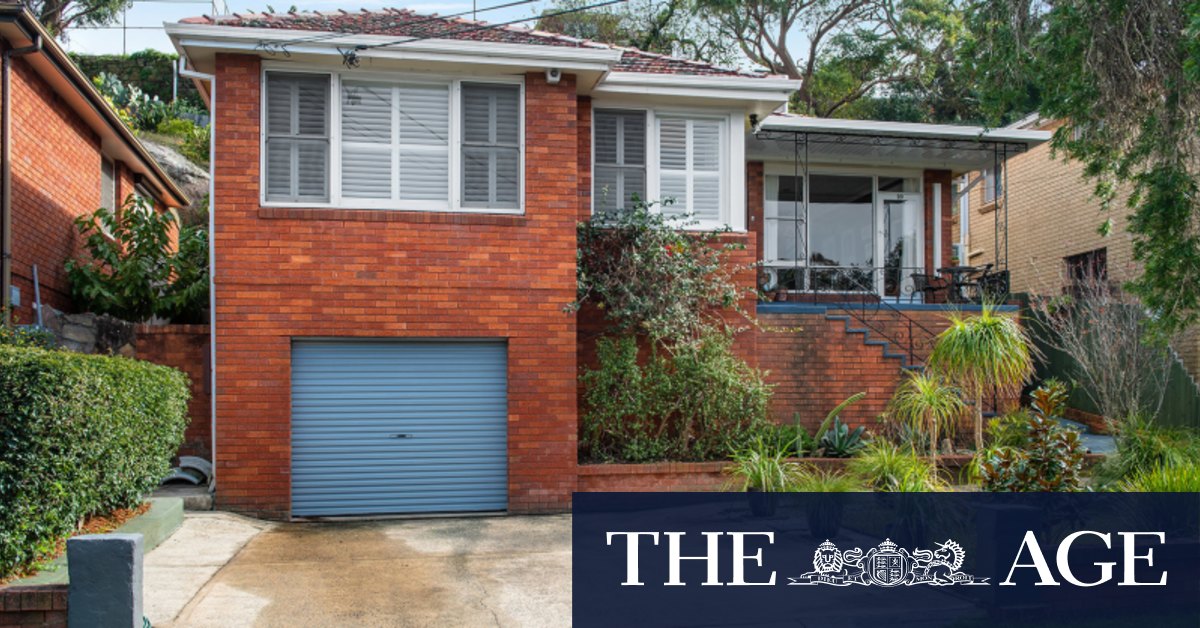 "We already pushed more than we should. There are more houses, and house prices are going down … so we'll just keep looking and be saving some more money," he said.
Loading
Koczka said the price, $50,500 above the reserve, was a great result for the current market and that lower stock levels this spring, particularly for houses, meant there was good competition for desirable properties.
In Cronulla, a family outbid developers and builders for a fixer-upper that sold for $5.5 million, $700,000 above the reserve price.
There was strong competition for the tightly-held four-bedroom house at 165 Ewos Parade, a 1065-square-metre property one block back from the beach.
Bidding started at $4.2 million and rose in mostly $100,000 and $50,000 increments as five of the nine registered bidders competed. Most were builders and developers looking to subdivide the block.
The property sold to a family from southwest Sydney, who plan to renovate and move in, much to the delight of the 96-year-old seller who owned the property for about 45 years.
Selling agent John Schwarzer, of Highland Sutherland Shire and St George, said there came a point in the bidding where it was no longer commercially viable for a builder to buy the property. He said the level of competition and result were rare in the current market.
"It's a unique property; a large parcel of land by the ocean in a blue chip location," he said.
In the inner west, 11 bidders turned out for the auction of a three-bedroom townhouse with a study at 5/23-25 Cook Street Glebe.
The eventual buyers, downsizers from the upper north shore, kicked off the auction with an offer of $1.8 million, above the $1.7 million price guide. Bidding climbed in $25,000 increments and quickly passed the $1.85 million reserve price as five active bidders competed for the keys.
The home sold for $2,205,000 through Matthew Carvalho, of Ray White Glebe, who showed 120 groups through the property. Records show it last traded for $290,000 in 1993.
Carvalho said a drop in the number of listings was increasing the number of interested buyers per property. He estimated new listings in his market were down about 30 per cent year-on-year, and expected low supply could slow the rate of price falls.
"If it stays like this through spring, I think there could even potentially be a bit of an uptick in [prices for] the first properties to hit the market in the new year, but more than likely the market will plateau out," he said.
In Neutral Bay, a one-bedroom apartment with Harbour Bridge and water views sold for $900,000 in post-auction negotiations.
Two parties registered to bid on the unit at 56/143 Kurraba Road, and bidding began at $750,000. A vendor bid was later made at the $850,000 price guide, and further bidding took the price to $885,000, at which point the unit was passed in.
It sold shortly afterwards to an investor from Mosman for the $900,000 reserve price, said selling agent Nicolas Boot, of Di Jones Neutral Bay. Records show it last traded for $785,000 in 2016.
Original Article: Click Here